A range of Alternative Therapies can be provided on the Coasta Blanca. Please Contact me for more details.
Craniosacral Therapy (CST), or cranial-sacral therapy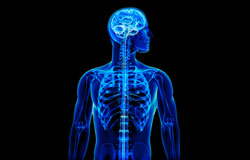 is a gentle, noninvasive form of bodywork that addresses the bones of the head, spinal column and sacrum.
The goal is to release compression in those areas which alleviates stress and pain. To do this, a light touch is required to a patient's skull, face, spine and pelvis. Craniosacral Therapy re-establishes freedom of movement in the craniosacral system which affects the body in its wholeness and supports its self-healing abilities.
By very gently moving end freeing bones throughout the body, the membranes and connective tissue – tensions and imbalances are released. Deep relaxation happens, pain patterns tend to dissolve and old injuries lose their grip; areas of stress and holding unwind and diminish, emotions change and moods lighten.
Cranial sacral therapy seeks to restore the natural position of the bones and can decrease  stress from chronic injuries as well as provide relief from migraine headaches, neck and back pain, temporomandibular joint disorder (the inflammation of the joint that connects the lower jaw to the skull) and more.
Reflexology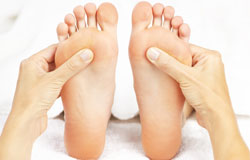 It is believed that energy runs through the body in channels known as meridians and that massage of the feet stimulates these energy channels, promoting healing and relaxation. Every part of the foot corresponds to an area of the body, and massage of the feet stimulates the corresponding part of the body so that receiving a reflexology massage is regarded as the equivalent of a full body massage.
The most obvious effect of reflexology massage is that of stress reduction. The techniques of reflexology include finger or thumb walking–where the reflexologist walks the finger or thumb over different areas of the feet in a set sequence–and massage and kneading of the foot using the whole hand. The experience is generally firm, but gentle, and should never cause discomfort or pain.
Although results vary from individual to individual, the soothing action of reflexology generally leaves the recipient feeling deeply relaxed and peaceful afterwards.
Reiki & Seichem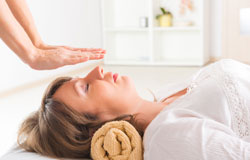 Reiki is a spiritual, vibrational healing practice used to promote balance throughout the human system.  The word Reiki is made of two Japanese words – Rei which means "God's Wisdom or the Higher Power" and Ki which is "life force energy". So Reiki is actually "spiritually guided life force energy."
Reiki is a simple, natural and safe method of spiritual healing and self-improvement that everyone can use. It has been effective in helping virtually every known illness and malady and always creates a beneficial effect.
Ancestral Healing / Family Constellations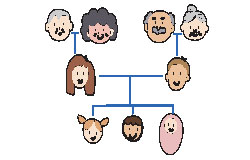 is a powerful method to help you recognise difficult entanglements both in your family of origin as well as in your present family or relationship. Solution-oriented interventions bring understanding, which is followed by a deep relaxation that allows love to flow again between members of the family system.
Systemic Family Therapy was first developed by the German therapist Bert Hellinger. In this therapeutic approach, we consider the individual as part of a greater whole – a family system – rather than as a separate entity.
His individual behaviour, feelings and attitudes have to be understood in the context of this larger group. As in any other system, unspoken laws operating in the family guide behaviour that we, as family members, are largely unaware of. Suffering usually arises in a family member when one or more members of the system unconsciously violate these archaic laws. They do this unknowingly, not out of rebelliousness as one might expect, but out of love – a 'blind' love.
This has the power to break patterns of generations of suffering and unhappiness so that we can live healthier, happier, more fulfilled lives. In a moment of insight, a new life course can be set in motion. The results can be life-changing. Topics can range from financial flow, anger and guilt to many others.
"Children seldom or never dare to live a happier or more fulfilling life than their parents. Unconsciously they remain loyal to unspoken family traditions that work invisibly. Family Constellations are a way of discovering underlying family bonds and forces that have been carried unconsciously over several generations."
– Bertold Ulsamer – 
[ms_divider style="shadow" align="center" width="100%" margin_top="30px" margin_bottom="30px" border_size="" border_color="" icon="" class="" id=""]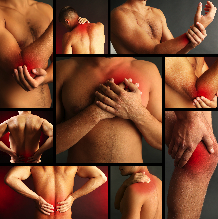 Massage Therapies
[ms_timeline columns="3″ class="" id=""][ms_timeline_item title='Holistic/Swedish Massage' time='1′]Holistic or Swedish massage therapy is the modality that comes to mind when most people think about massage. As the best-known type of bodywork performed today, one of the primary goals of the Swedish massage technique is to relax the entire body.
This is accomplished by rubbing the muscles with long gliding strokes in the direction of blood returning to the heart. But Swedish massage therapy goes beyond relaxation.
Swedish massage is exceptionally beneficial for increasing the level of oxygen in the blood, decreasing muscle toxins, improving circulation and flexibility while easing tension.
[/ms_timeline_item] [ms_timeline_item title='Deep Tissue Massage' time='2′]
This Deep Tissue Massage will focus on realigning deeper layers of muscles and connective tissues and is helpful for chronic and tense areas such as stiff necks, lower back tightness and sore shoulders, therefore only one or two areas will be worked on during the session.
Using specific and detailed strokes, this massage is both powerful and vigorous to get to the deeper layers of muscle tissue to reduce toxins in the body, relieving stress, blockages and tight muscles whilst boosting circulation and reducing physical pain. This massage is suited to long-term problems that you just can't seem to shift.
[/ms_timeline_item] [ms_timeline_item title='Sports Massage' time='3′]
This Sports Massage will focus on areas of injury with an aim to free up any restrictions in the body whilst improving sports performance, boosting flexibility and handling injuries or potential injuries. The treatment may focus on one or two areas of the body, and may be a clothes on/or off treatment depending on the problem.
This therapeutic treatment may include gait assessment, Trigger Point Therapy, Myofascial Release, Soft Tissue Release, Muscle Energy Technique and also some focused exercises to assist after the session.
[/ms_timeline_item][/ms_timeline]
[ms_label background_color="#9dd675″ ][/ms_label]
[ms_alert icon="fa-bolt" background_color="#9dd675″ text_color="" border_width="0px" border_radius="0px" box_shadow="no" dismissable="no" class="" id=""]Disclaimer:
All Bodywork and Massage therapy is not a substitute for medical treatment or medications. You are recommended to work concurrently with your primary caregiver for any condition you may have. As Certified and licensed therapists, we do not diagnose or treat medical conditions, nor do we prescribe medications.
All bodywork and massage therapy offered is strictly non-sexual. Any illicit or sexually suggestive remarks or scheduling of a session for the purpose of solicitation of sexual acts will be reported to the proper authority and denied service with NO refund or credit.[/ms_alert]